Mediatek Simple Unlock Tool (MSU) Free
Mediatek Simple Unlock Tool has invaded every area of our lives in the contemporary digital era. They preserve our memories, important information, and private data. But occasionally, for a variety of circumstances, we might have no choice but to open our devices. Customers may easily and rapidly unlock their Mediatek cellphones using the Mediatek Simple Unlock Tool (MSU) V2.0, offering them more flexibility and control.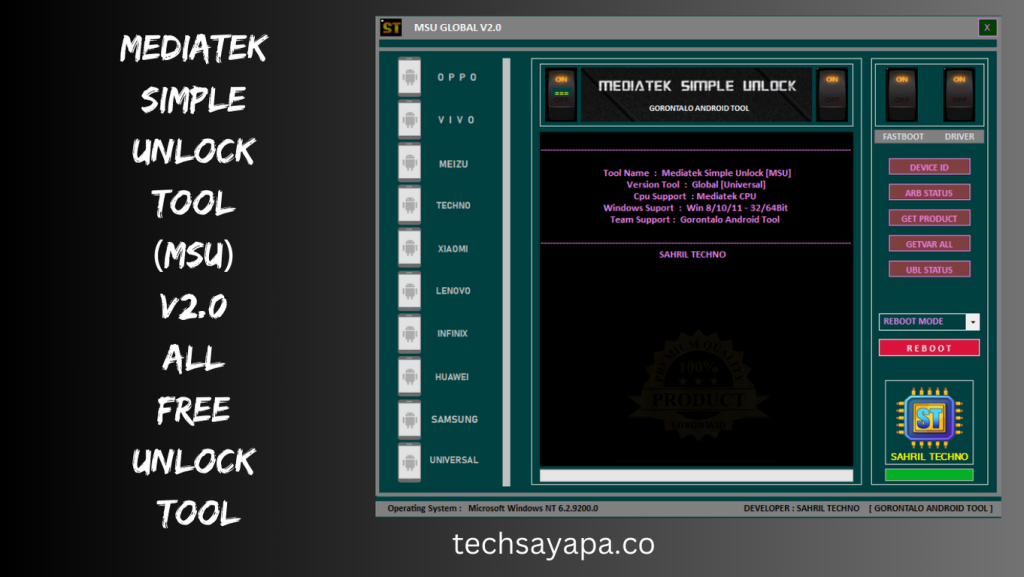 Introduction:
The Mediatek Simple Unlock Tool (MSU) is a piece of software designed specifically for Mediatek hardware. The unlocking process can be completed by users with little or no technical skill because of its simple and user-friendly interface. MSU provides a simple solution whether you want to change your network provider or have forgotten your device's PIN, pattern lock, or password.
Importance of unlocking Mediatek devices:
Unlocking a MediaTek gadget opens up a vast array of possibilities. Since you can use your device with any network carrier, you are free to choose the finest plans and services. Unlocking also enables you to explore custom ROMs, access more features, and improve the performance of your device. Whether you're a tech enthusiast or a regular user, unlocking your Mediatek device can enhance your smartphone experience. You may also like this software: Android Fastboot Reset Tool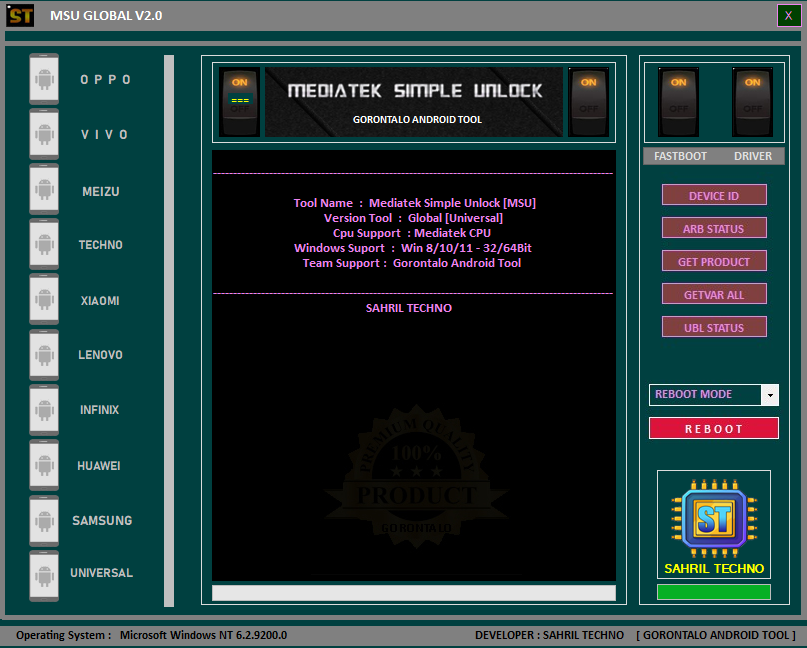 Features:
a straightforward and user-friendly interface:
The MSU tool has an easy-to-use UI that makes it simple for users to move through the unlocking procedure. With the use of this tool, you may easily unlock your Mediatek device even if you don't have much technical knowledge.
the ability to work with different Mediatek devices:
Mobile phones and tablets are among the Mediatek devices that MSU is made to function with. Users can unlock their smartphones regardless of the precise Mediatek chipset they have because it supports various models and versions.
unlocking potential:
Unlocking Mediatek devices is made simple and effective with the Mediatek Simple Unlock Tool (MSU) V2.0. Whether your device is locked by a PIN, pattern lock, or forgotten password, MSU can go through these security features and give you access to it.
Optional backup and restoration:
The option to back up your data is provided by MSU before starting the unlocking process. This makes sure that in the event of any unanticipated problems during the unlocking procedure, your crucial files, contacts, and settings are protected. After the data has been unlocked, you can also easily restore it.
security components:
The security and privacy of its users are a top priority for the Mediatek Simple Unlock Tool (MSU). The program is made to make sure that the unlocking procedure is safe and secure, without jeopardizing any private information or putting devices in danger.
System Requirements:
Operating system: Windows operating systems, including Windows 7, Windows 8, Windows 8.1, and Windows 10, are compatible with MSU.
CPU: To ensure that the tool runs smoothly, your computer should have at least a dual-core CPU.
RAM: 4 GB of RAM is the suggested bare minimum for running MSU. However, 8 GB or more RAM is recommended for best performance.
Storage Space: Ensure that there is enough free disc space on your computer to install and operate the utility. It is advised to have 100 MB or more of free space.
To connect your Mediatek gadget to the computer for the unlocking process, it must have a functional USB port.
Internet connection: Although it is not necessary to have an internet connection to use MSU, it can be useful to have one to download the program and access any updates or support materials.
Make sure your computer is running with the correct Mediatek USB drivers before continuing. Through the use of these drivers, your computer may interface with your Mediatek device and unlock it.
How To Install?
Use MSU to unlock your Mediatek smartphone by following these simple steps:
Step 1: Download the instrument
Visit the Mediatek Simple Unlock Tool (MSU) website.
Find the download link for the most recent tool version.
To begin the download procedure, click the download link.
The setup file should be saved in a handy place on your computer.
Activating USB debugging in step two
Go to "Settings" on your Mediatek smartphone, then scroll down to "About Phone."
To enable Developer Options, tap "Build Number" seven times.
Return to the primary "Settings" menu and select "Developer Options."
Select "USB debugging" and turn it on.
Installing Mediatek USB drivers is step three.
Utilize a USB cable to link your Mediatek hardware to your PC.
A folder containing the MSU setup file should be opened.
The setup file must be double-clicked to start the installation wizard.
Install the necessary USB drivers for your device by following the on-screen directions.
Launching the Mediatek Simple Unlock Tool (MSU) is step four.
Find the MSU icon on your desktop or in the installation directory when the installation is finished.
The utility will start when you double-click the MSU icon.
Your connected Mediatek device will be automatically detected by the tool.
Conclusion:
Last but not least, the Mediatek Simple Unlock Tool (MSU) V2.0 provides a simple and useful way to unlock Mediatek items. Because of its user-friendly UI and powerful unlocking features, MSU provides consumers the freedom to regain control of their devices and enjoy the flexibility to select their network carriers.
Get Access Now: